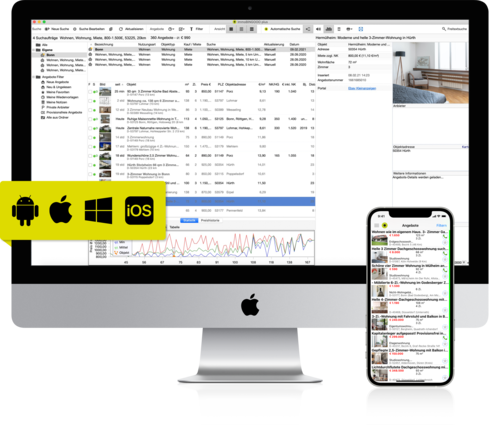 The program gives you direct access to the databases of the real estate portals. Use our real estate search engine to get access to 36 real estate web portals with 18,000,000 active offers in Germany, Austria and Switzerland.
Product Overview
You don't know which ImmoBINGOOO version is best for you? No problem, just use our overview for direct comparison
Test ImmoBINGOOO
Test ImmoBINGOOO without subscription or obligation of termination. Use our form to register as a guest.
Buy ImmoBINGOOO
You already decided which license to buy? Visit our shop to select your license and finalise your purchase.
(ImmoBINGOOO) gewährleistet Handlungsschnelligkeit im Erstkontakt und unterscheidet sich zu allen anderen Tools, die auf dem Markt verfügbar sind.
Jan Balzer, Immobilienmakler
Ich bekomme alles aufs Handy, klicke einfach rein und bin dann noch der Erste der anruft. Einfach Super!
Burhan Can, Can Grundbesitz GmbH
<
>