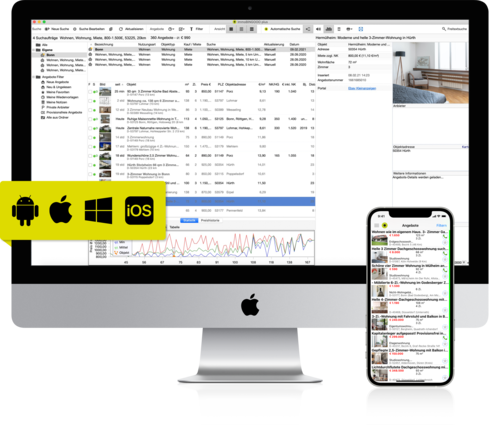 The program gives you direct access to the databases of the real estate portals. Use our real estate search engine to get access to 36 real estate web portals with 18,000,000 active offers in Germany, Austria and Switzerland.
Product Overview
You don't know which ImmoBINGOOO version is best for you? No problem, just use our overview for direct comparison
Test ImmoBINGOOO
Test ImmoBINGOOO without subscription or obligation of termination. Use our form to register as a guest.
Buy ImmoBINGOOO
You already decided which license to buy? Visit our shop to select your license and finalise your purchase.
Wir haben lange nach einer guten Immobilien Suchmaschine gesucht und mit ImmoBINGOOO endlich gefunden was wir brauchen, um im digitalen Zeitalter wettbewerbsfähig zu bleiben.
Karl V., Immobilienmakler
Seitdem wir ImmoBINGOOO nutzen, können wir Objekte viel schneller finden und unser Portfolio mit lukrativen Investitionen erweitern.
Helena T., Vermögensverwaltung
<
>